~ PVR LORETTA LYNN'S QUALIFIER SAT ~
~APRIL 27, 2013
~ AARON'S BIRTHDAY - MAY 2, 1980 - 33 YEARS OLD/FOREVER YOUNG ~
Time - what does it mean? Right now my mine is so full of "TIME", I'm anxious for my last day at my job for my future retirement, anxious to have more "TIME" to do what I love doing. I have a certain amount of "TIME" to get my retirement stuff together to take care of myself in the future years, again more "TIME". I'm also trying to get more pictures up of the past 4-5 races, it just takes "TIME". Then there is my Aaron, the almost 21 years, "TIME" of his being apart of our lives. The wonderful birthdays that we shared the "TIME" with all that loved him. My memory remembers those "TIMES". So many memories that we cherish and the "TIME" that we have been cheated out of with him not here. The "TIMES" we had together are so precious and the "TIME" with out him so painful. It's just "TIME", for we just press on thru "TIME".
Our Aaron would have been 33 years old today - hard for me to visualize him for he will forever be young. My little boy thru his love of transformers, match box cars, baseball cards, fresh smelling baseball glove, the years of parts, gear and motorcycles - all wrapped up in "TIME". We miss having those special days with him but he is always with us. Never far from my thoughts.
This picture of Aaron was taken at Pleasure Valley Raceway. He was attending the Tony Dee's MX school. Aaron liked racing at PVR but he always had such a hard time getting thru the rhythm section right before you shot down the hill toward the bottom. Always crashing there - went over the handle bars many a times and took out some of Jeff's snow fence. Which made a nasty hole in his jersey and his skin. He wanted to learn how to go thru that rhythm sections. So signed up with that his main goal. Well the instructor worked him pretty good. At the end of the secession he rode with the instructor thru the rhythm section and as you can see in the picture was feeling pretty good about his accomplishment. Just showing a little bit of attitude. I love this picture!

~ AARON AT PVR - "OH YEAH, I CAN DO THEM NOW"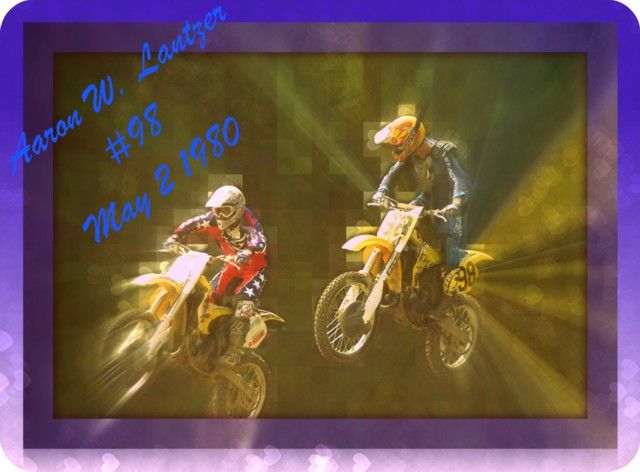 ~ SLIDESHOW THAT I MADE LAST YEAR OF AARON ~