~ STEEL CITY EASTER EVENT ~
* NOTE HERE - APRIL 15 - Was not able to go to PRP today, I have been sick since Wednesday, just too weak to do what I love to do. Feeling better today and looking forward to High Point this weekend.

~ I SPY LOTS OF AARON STICKERS - THANK YOU JOEY ! ~

JOEY LOOKING AWESOME!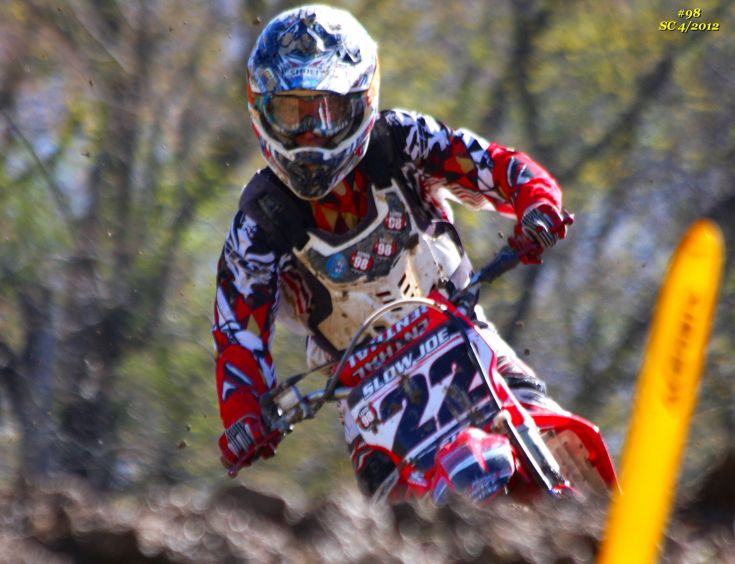 ~ EASTER T-SHIRT, 2000 ~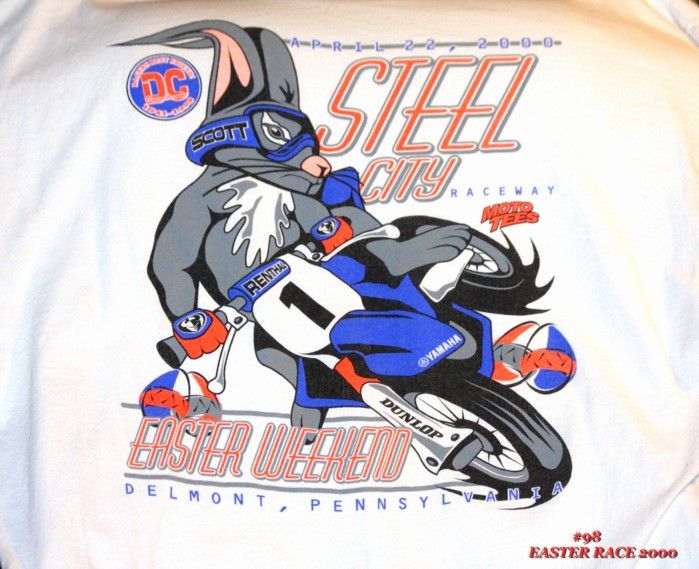 What a great day at Steel City. Sun was out, track was drying out with the wind and lots of talented riders. The 250 B class had 31 riders, Open C was full with 37. In the 250C two divisions had to consi down from 49 to the full gate of 40. Schoolboy had 19 and Collegeboy with a fantastic group of riders from all classes of 26 riders. OpenA/250A was full of talented riders. It was good to see Daniel Lippman back and in the hunt after his injuries the past couple of years. Daniel was ready to get it done at last years Loretta's and suffered a broken collar bone right off the start of his week. WELCOME back Daniel. Also in the mix was Philip Nicololetti taking the 250A in first with Michael McDade taking the Open A class. What a great group of experienced A riders. Stevie Roman, Dylan Slusser, Ben Ritter lots of racing experience welcoming the new A riders to the group. Alex Odell, Jason McConnell, Joey Michaels and Daniel Lippman just to name a few.

~ STEEL CITY EASTER GALLERIES ~
~ BLOG GALLERY ~
~ 250 A MOTO 1 - PART 1&2 ~
~ MISC GALLERIES 1 & 2 ~
~ OPEN C MOTO PART 1 & 2 ~
~ 250 B PART 1 & 2 & 3 - 30 RIDERS COME ~
~ SUPERMININ 12-15, 85'S 9-11 B & 9-11 C MOTO 1 ~
~ OPEN B MOTO 1 PART 1 & 2 ~
~ 65's 7-11 B & C MOTO 1 ~
~ 2STK & 4STK PART 1 & 2 MOTO 1 ~
~ 50'S MOTO 1 ~
~ +40 B&C, WOMEN, BOMBER MOTO 1 PART 1&2 ~
~ +25 ABC - COLLEGEBOY MOTO 1 PARTS 1 & 2 ~ This moto was a big one with 5 +25A, 8 +25B/C, then you put a Collegeboy class of 26 in the mix and it's like 2 motos. So it will probably have atleast 4 parts to it. So hang in there with me on this. Some great racing between Evans and Ritter.
~ +25 ABC - COLLEGEBOY MOTO 1 PARTS 3 & 4 ~
~ OPEN A MOTO 1 PART 1 ~

http://www.pbase.com/MXLens

~ +25 A, B & C MOTO 1 START SLIDE SHOW - AWESOME ~
When looking at the photos to get up on the site I got stuck in this start of the +25 Classes. WOW, what a start. You have Randy White and Billy Kibler getting out in front in the upper part of the turn then coming around Chris Corcoran gets a piece of Billy's back tire which puts him into a flip with Kevin Hoge no where to go but down with him. The others take split second moves to avoid the mishap. That was just the start of the excitment. As they entered the rythum section Jimmy Evans and Ben Ritter take to getting to the front of the class. Now if you love racing and this start doesn't get your heart rate up you need to see a Doctor to get it checked out.