Team Blog Entry
~ MX ALL IN THE FAMILY ~ MARAUGHS & STREITS ~ RIDER SLIDE SHOWS ~
Looks like it was a great MX weekend, Congrats to Darryn Durham finishing 7th in the MX Lites at Daytona..... TOTALLY AWESOME! Also thank you Broc Streit and Adam Toth for the udates on what they were doing in NC at a qualifier. I know that Adam suffered some problems there and we hope that things will get better for him. Broc from what I understand did very well on Saturday, finishing 5th in both moto's and an overall of 4th in his A Class. I know that there were more of our riders there but I don't have their finishes. I hope that all went well for all of them. Have a great week.


ROARING KNOB is coming up in the next few weeks. I know that we are all anxiously awaiting for that weekend. So here are the 85's looking good last March.....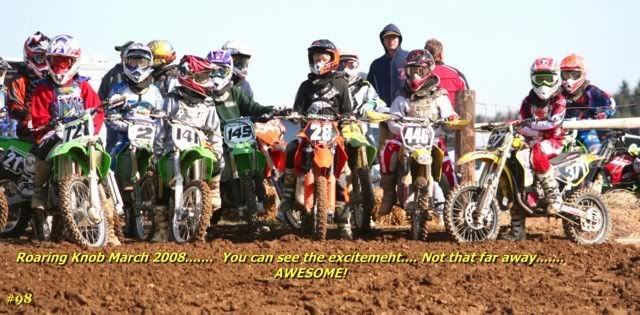 KRISTIN'S TOO SEXY SLIDE SHOWS
~ I'm Too Sexy ~ - check out the sexy slide show on Kristins weblog page, well sort of sexy....
sing along....... SPRING HUMOR!.... (be patient for ss to load.... lots of sexy people pictures)


~ MXERS & WRESTLERS ~
OKAY....its still snowing and we watched Darryn and Broc at Atlanta, trying to get that MX fix. Still we look out our windows and sigh a big one. This means a few more weeks of winter and the riding in a inclosed building or that quick trip around the house. Even in great weather Kristin and I just participate in watching all of you. So this time of the year we again watch many others do some extraordinary athletic things. High School Wrestling! You probably get tired of me and my going on about how much the two sports just run so close together. Individual wrestling, the one on one with another opponent. Taking one after another, after another to reach the ultimate goal of 1st place at States.... PIAA WRESTLING CHAMPIONSHIPS. This process generally goes on all year for the all involved wrestler. Training, more training, weight control, dual matches with other schools and then individuals. First one must get thru their section. Then go on to the awesome WPIAL'S (around here) get as close to first for that better position in the Regionals. Hoping to be in the top four or five at regionals earns you a spot at State Championshis in Hershey. Every wrestler has that goal burned with in. Does this sound familiar yet. The MXER starts out with the same practice regiment, takes on other riders one by one. Getting to that first qualifier then regional and finally the Big Dance.... Loretta Lynns.
We have here in our MX families many wrestlers that also ride. I'm sure that there are many that are keeping in shape thru the winter months doing the physical and mental things that wrestling demands. I have been fortunate to watch 2 of our riders over the years doing both. At the time that I watched these young men take on the best of the best in the state of Pennsylvania I'm not even sure they were even riding bikes. We watched them from AA Regionals right thru the finals at Hershey. Sammy Holland #445 (or the infamous #6, #40 of years passed) was a dynamic wrestler at 103 from Curwensville. In his senior year Sammy placed with a finish of 4th. Thats 4th in the states - PIAA AA. Folks you just don't get there by chance. Total dedication, sacrifice, physical hard work, concentration that has been built over many years. Our other famous wrestler in our MX family is Luke Lorson #740. Luke was raised in a great tradition of wrestlers in his family. The name of Lorson is very much associated in the wrestling community. From the wrestlers themselves to Lukes father who is a highly regarded wrestling coach. The name of Lorson would make any WPIAL wrestler cringe knowing that they may meet one at the regionals. Luke wrestled for Berlin-Brothersvalley at 140 LBS. Was 2nd in his SW regional and took 7th or 8th at States. (for some reason I didn't finish that part of the bracket) The first time that I saw Luke was at Field of Dreams. He was in the C Class and always pressing toward the front in all of his motos. There was a different look that Luke had that caught my eye, on the track and off. He just had that style of riding and his body presence was that of a wrestler. Being a warm day at the track he was cooling down with out his jersey on and that stand out tatoo was right there on his back..... LORSON. Oh my goodness he is one of the Lorson wrestlers. I was wanting to go right up to him right then and ask him, but being shy I held back. I told Kristin who I thought he was and she knew right away that it was. We had watched him the past few years along with many family wrestlers. It took awhile before we just had to talk to him. Thru the years of watching these young men prepare for a dual match right up thru the gruling preparation of individuals I have the most respect for them and their coaches. Such hard work, great highs and lows of emotions thru it all. When I watched Sammy at his young start in the C Class, we could not believe the intensity of his riding. Kristin realized who he was from our wrestling days. Total concentration, physical power and indurance (all those heaters). Watching Sammy grow into one of the best of our district was an honor. With all of the injuries that Sammy had to indure he still would come back and finish right up in front. Luke Lorson moved up into the B Class last season and is to be recond with in the top of his classes. His foundation of wrestling makes him a tough compeditor. I hear that he is helping out other wrestlers with his great experience. I hope to see the "Lorson's" at Regionals this weekend at Johnstown.
I have put a few pictures of Sammy and Luke on their bikes in this slide show. I wish that I had some of their wrestling days. The brackets that you see are their individual weight class and the other wrestlers that they had to meet. They are from my programs and are alittle sloppy, but what an event and what a priviledge to go to Hershey and watch such talent just as I do when I go to Loretta's or Mini O's. It's a priviledge knowing you, Sammy and Luke. And good luck to any wrestler out there at this time in reaching his goals.
PIAA SOUTHWEST AA WRESTLING REGIONAL - JOHNSTOWN, CAMBRIA WAR MEMORIAL - FEB. 27 & 28
PIAA WRESTLING CHAMPIONSHIPS - HERSHEY, MARCH 5,6,& 7


Posted by Arlene on 02.02.09 @ 08:52 PM ET | Top of Page