Team Blog Entry
~ PAMX - RND 1, 2 & 3 ARCHIVES 2008 ~
~ PLEASURE VALLEY CHAMPIONS - PAMX - APRIL13, 2008 ~
#510 Jeff Nelson - Vet B
#17 Broc Streit - College Boy
#505 Dylan Slusser - Schoolboy (4-Stroke), 250 B, Open B
#104 Brian Shuckhart - 250 A, Open A
#571 TJ Phillips - 4-Stroke
#96 Anthony Laird - Schoolboy (2-Stroke)
#710 Maccoy Shine - 65cc 7-9
#371 Alex O'Dell - 85cc 12-13
#721 Jason McConnell - Supermini 1
#424 Taylor Levic - Women
#42 Garrett Jobe - Open C
#31 Barry Carsten - +40
#99 Davey Yezek - Vet A
#81 Robert Semelsberger - 50cc 3
#196 Josh Martin - 65cc 7-11
#4 Vinny Luhovey - 50cc 2
#360 Jeremy Cook - +25
#991 Kyle Davinsizer - 250 C
#100 Jarrett Frye - 50cc 1
#56 Stephen Gretchen - 65cc 10-11, 85cc 9-11, 85cc 9-13
#268 Lamont Hunter - Bomber
#104 Keith Kunkle - Open D
#527 Shawn Leska - Vet C
#356 Daniel Lippman - Supermini 2
~ PLEASURE VALLEY RACEWAY PAMX RND #3 APRIL 13, 2008 ~
#721 Jason McConnell injured himself in the late afternoon of the raceday, breaking his wrist. I'll update with more information while I receive it and here's to Jason feeling better!
----------------------------------------------------------------------------------------
#571 TJ Phillips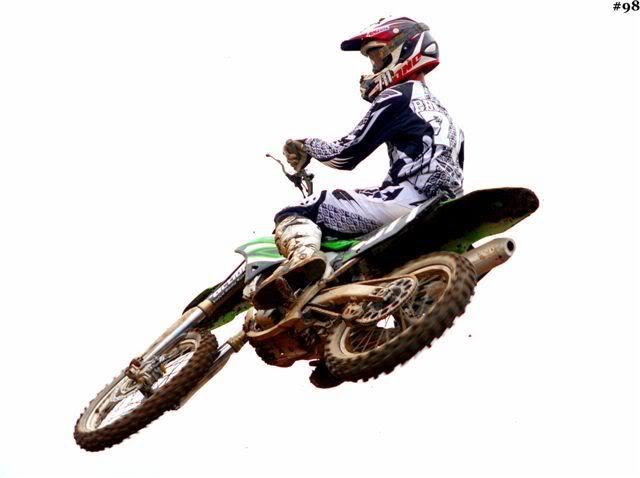 #441 Shane Durham and #104 Brian Shuckhart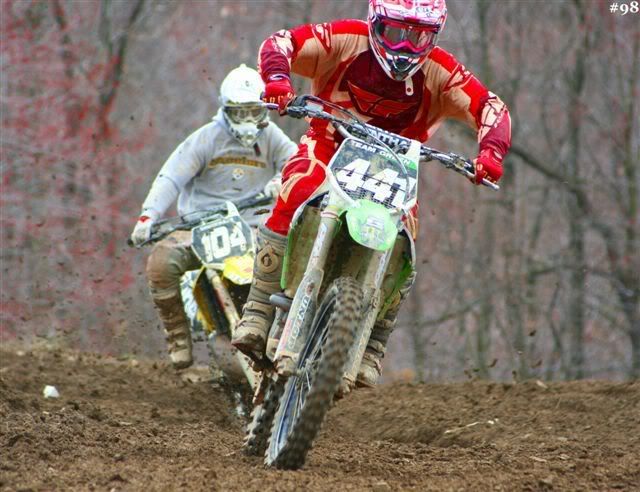 #7 Ryan Boyer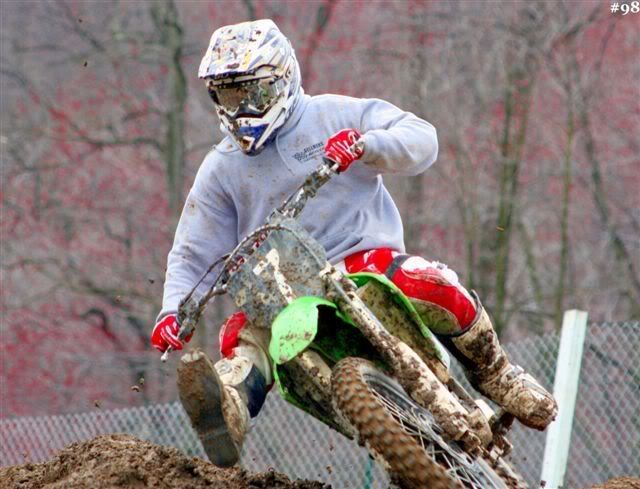 #575 Luke Himler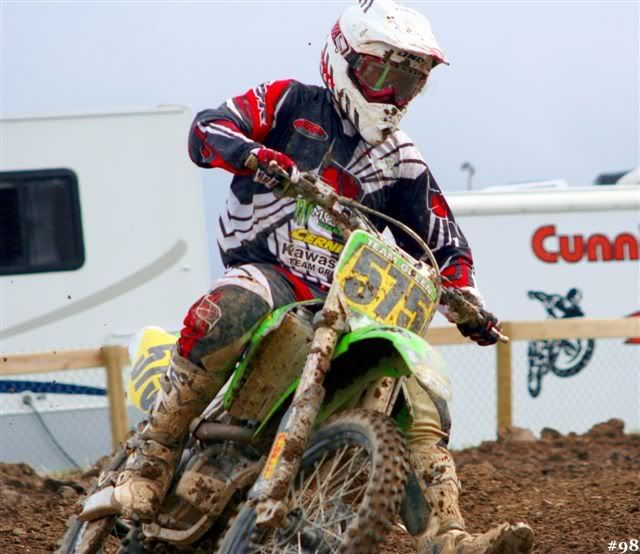 the future of motocross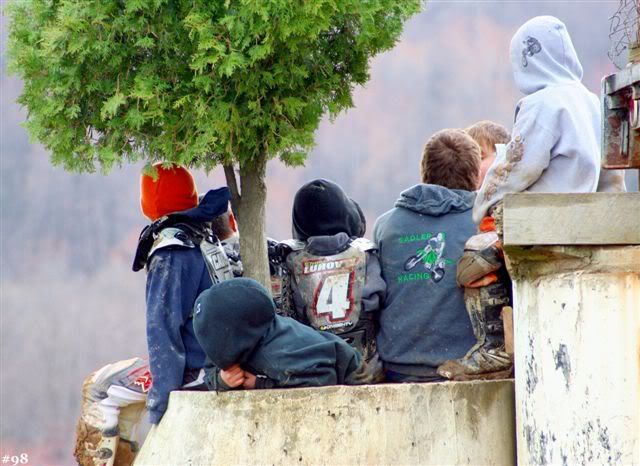 #18 Alex Rick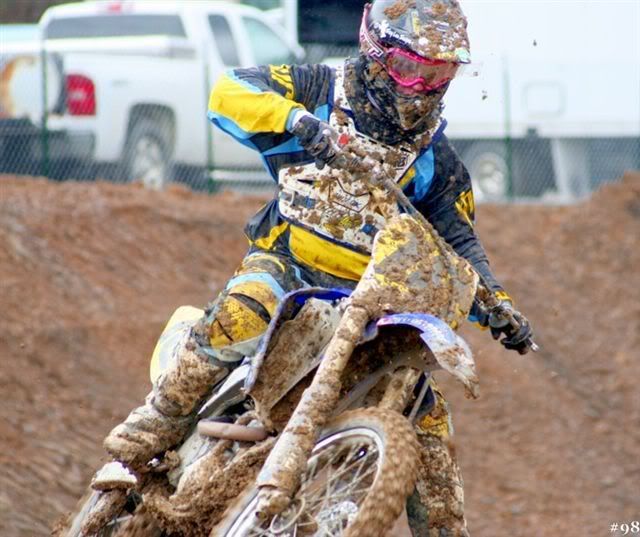 #505 Dylan Slusser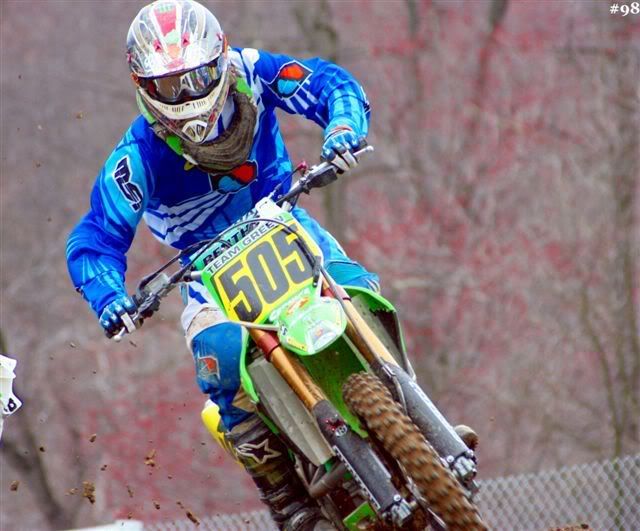 ~ HIGH POINT PAMX RND #2 - APRIL 6, 2008 ~
#33 Quad A racer Tim Writt had a pretty severe crash this past weekend, resulting in being lifeflighted to the hospital for a multitude of injuries. I talked to Timmy Tuesday night and he said he is doing OK. I hope things go well with your recovery Timmy!
#247 Mitchell O'Vell crashed on the start in his Supermini moto yesterday at High Point, which resulted in him having to have surgery this morning to repair two broken bones in his leg. The surgery went well and we all hope that Mitchell will have a safe and speedy recovery.
#2 Nick Fratz-Orr also sustained injuries on his leg after crashing in the same Supermini moto at HP. The latest information I got this afternoon said that Nick had long surgery last night, which went well. He had screws placed in his leg. I hope things go well for him in the upcoming months. Thanks for the information Sarah.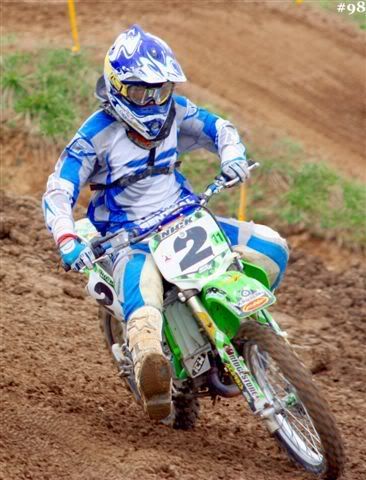 - - - - - - - - - - - - - - - - - - - - - - - - - -
#505 Dylan Slusser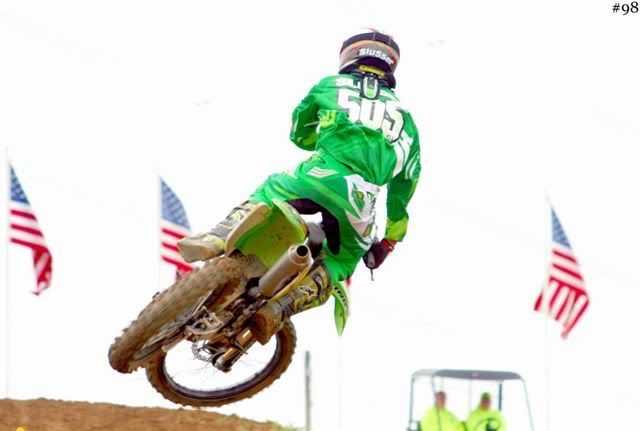 #182 Deric Dury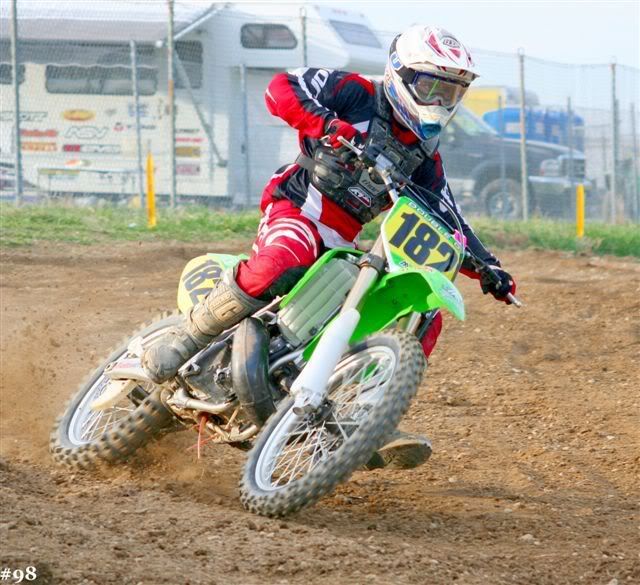 #356 Daniel Lippman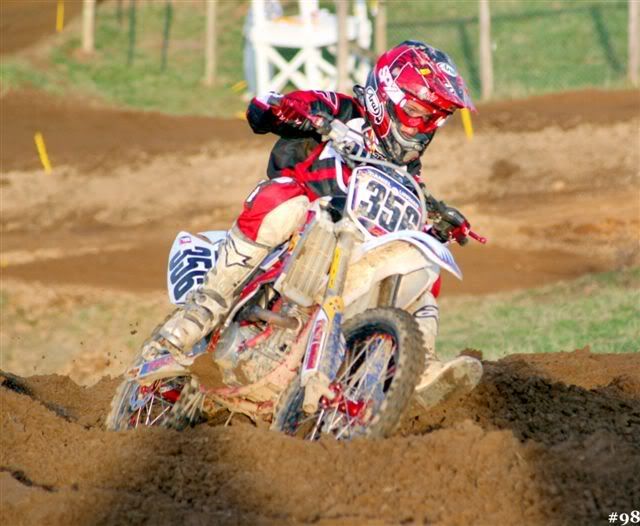 #45 Bryan Hoag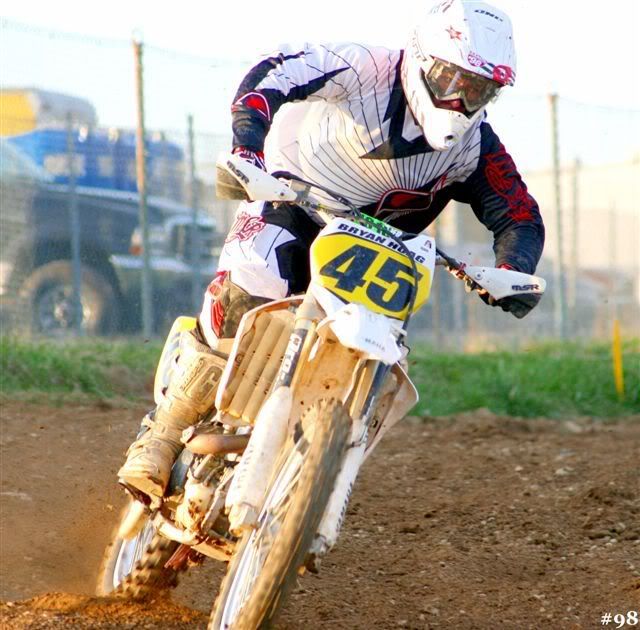 MX Lites B, Division 1: #326 T. Webber, #18 Alex Rick and #96 Anthony Laird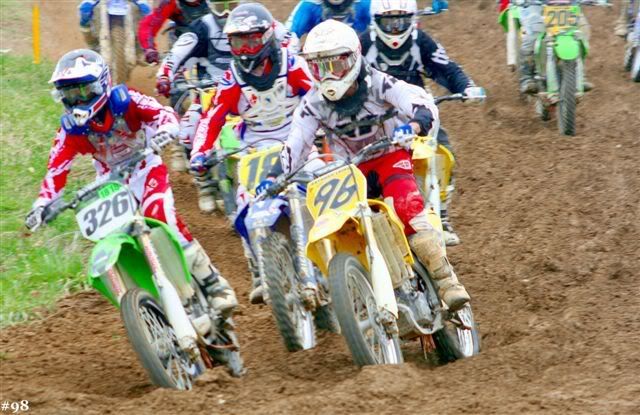 one of the best races of the day between #125 Alexander Woskob and #505 Dylan Slusser
#922 Bright, #477 Wells and #237 Horvath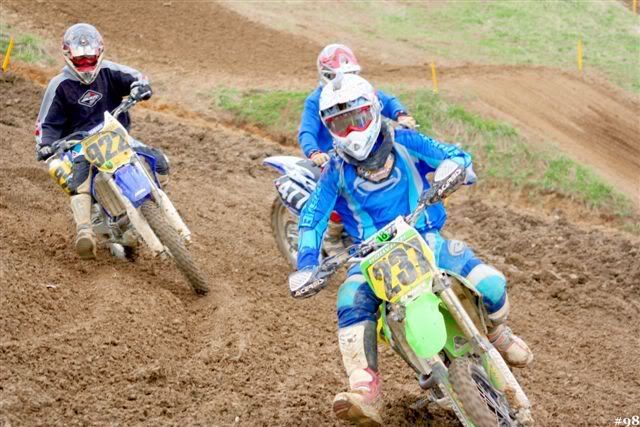 #573 Mitch Lehman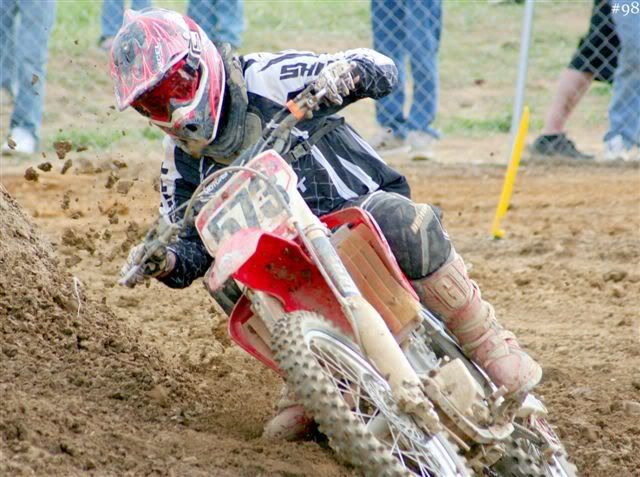 #575 Luke Himler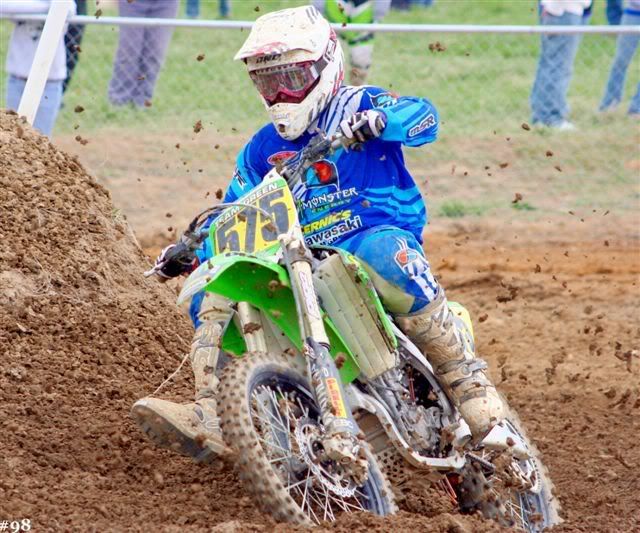 #576 Chad Boyd, #235 Reed Chapman and #213 Dan Raible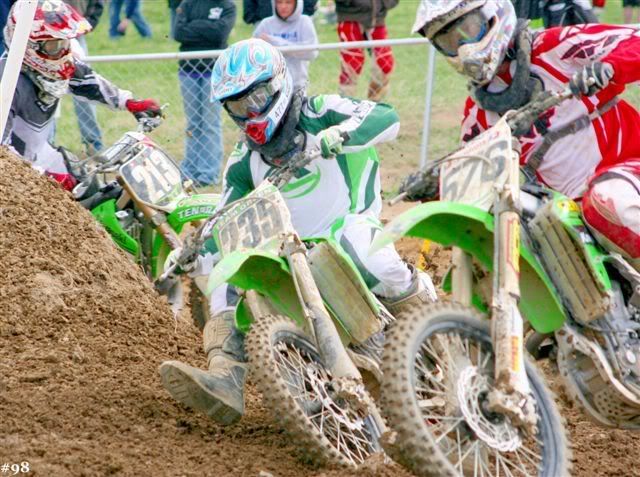 #922 Corey Horner, #23 Craig Yoder and #573 Mitch Lehman
ROARING KNOB RACEWAY RND #1 PAMX - 3/30/08
The first round of the 2008 PAMX American Suzuki Spring Championship Series, which was held at Roaring Knob Raceway, showcased some of the most talented riders that District 5 has to offer. Despite cold and windy weather conditions the racers and spectators were excited to get the season underway.




#95 Darryn Durham proved to be the racer to beat in the 250 and 125 A classes, going undefeated in both to take the overalls. Brian Shuckhart, whoĺs new number is #104, finished second overall in the 125A with #315 Roy Holt finishing second in the 250A class.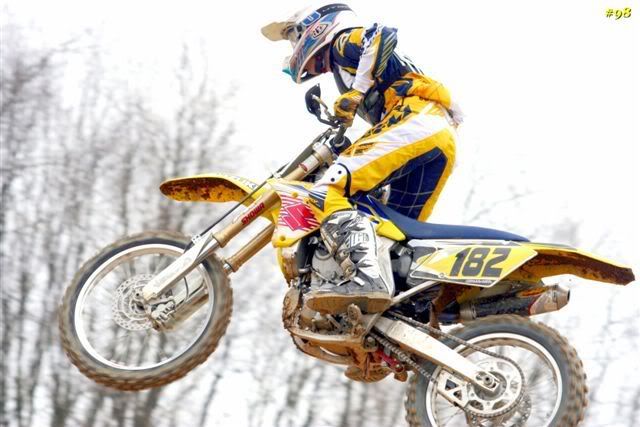 #182 Deric Dury swept both the 125 and 250 B classes, receiving first place finishes in all of his motos. #900 William Shay placed second overall in the 250B class with #647 Ty Newcome finishing third. #96 Anthony Laird went 2-2 to place second in the 125B class with #36 Bob Hess finishing third with a 5-3.




The 250C class proved to be a brothers affair as the Fratz-Orr brothers dominated the top two spots in both motos. #99 Derek Fratz-Orr went 1-1 to win the overall while #2 Nick Fratz-Orr went 2-2. #448 Billy Kibler went 5-3 to place third. #42 Garrett Jobe took the overall in the 125C class, with #527 Shawn Leska placing second and #732 Andrew Ferraro finishing third.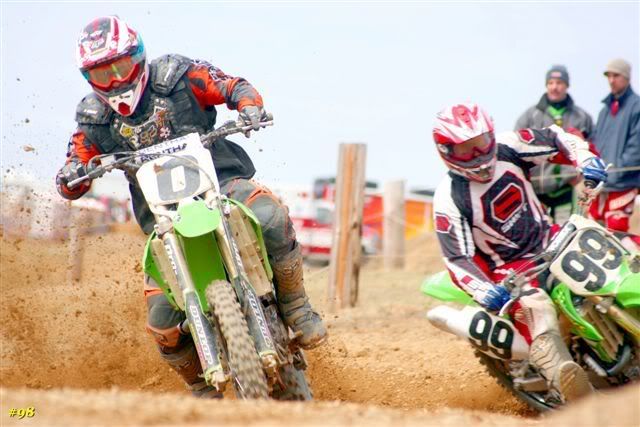 Vet A proved to have some of the greatest races of the day, as #0 Jimmy Evans, #99 Davey Yezek and #594 Chad Sanner all battled for first place. Evans went 1-1 to get the overall, with Yezek and Sanner finishing second and third, respectively. #629 Jason Haller won the Vet B class, finishing with a 2-1 over second place finisher DJ Ament, whom received a 1-2. Shawn Leska won the Vet C class, with #912 Eric OĺMally and #159 James Juran finishing up the top three.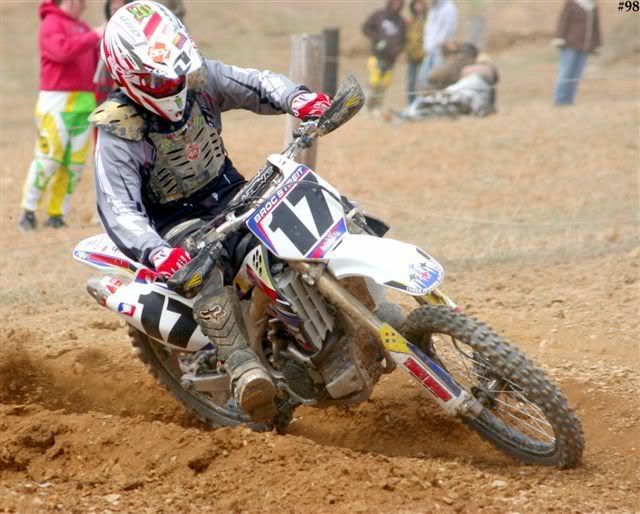 #17 Broc Streit finished first overall in both the 4 Stroke and College Boy classes, with #576 Chad Boyd finishing second in the 4 Stroke and #77 Tyler McGoff placing second overall in the College Boy class. #145 Zack Kantner took the win in the Schoolboy (12-16) class with Laird winning the Schoolboy (14-16) motos.




#721 Jason McConnell went 1-1 to place first overall in the Supermini (12-15) moto. Nick Fratz-Orr placed second with Derek Fratz-Orr finishing in the third spot. Alex OĺDell won the 85cc 9-13 class and the 85cc (12-13) class, with #680 Scott Clapper winning the 85cc 9-11 class.



Other winners included: #215 Nicholas Sauers, 50cc class 1; #4 Vinny Luhovey, 50cc class 2; #43 Chris Writt, 50cc class 3; #144 Brick Papi, 65cc (7-9); #114 Shane Smallwood, 65cc (10-11); #261 Noah Schick, 65cc (7-11); #1 Cody Judy, Open D; #860 Mike Morgan, +40 A/B; #424 Taylor Levic, Women 85cc-250max; #30 Joshua Liston, 2 stroke.
Posted by MXLines on 05.14.07 @ 06:25 AM ET | Top of Page